THINGS TO DO
Southern of Hida Maze River Tourist Association
Address: 1508-1, Nishimura, Maze, Gero-city, Gifu 509-2615, Japan
TEL: +81 576-47-2841
FAX: +81 576-47-2333
E-mail: info@mazekanko.jp
Website: http://mazekanko.jp/ (Only in Japanese)
Ayu fishing experience
As Ayu is a territorial fish, we catch it with a live decoy, which is a very unique way of fishing. A local trained angler will teach you the method step by step.
Period: Jul-Oct

Rate: 8,000 JPY

Minimum participant: None
Hana-mochi making
Hana-mochi is a traditional art in Hida area which we usually make on New Year's Day. It's so interesting to decorate a maple tree with small pieces of red and white mochi like flowers.
Period: All year

Rate: 2,500 JPY

Minimum participant: 2 persons
Stream fish catching by hands
Feeling the coolness of water from feet bottom, not only children but adults can enjoy catching stream fish by their own hands.
Period: May-Oct

Rate: 2,000 JPY

Minimum participant: None
Gohei-mochi making
Gohei-mochi is a traditional food in Hida area and you will make it with local friendly mothers. The special sauce mixed with walnut, miso and soy sauce will make you hungry.
Period: All year

Rate: 1,500 JPY

Minimum participant: 5 persons
Hiburiryo (Ayu fishing with a fire)
Hiburiryo is a traditional fishing at Maze river. We catch spawning Ayu by surrounding with a net and surprising by torch, balefire and voice.
Period: Aug-Sep

Rate: 8,100 JPY

Minimum participant: 20 persons
Mountain Life Hida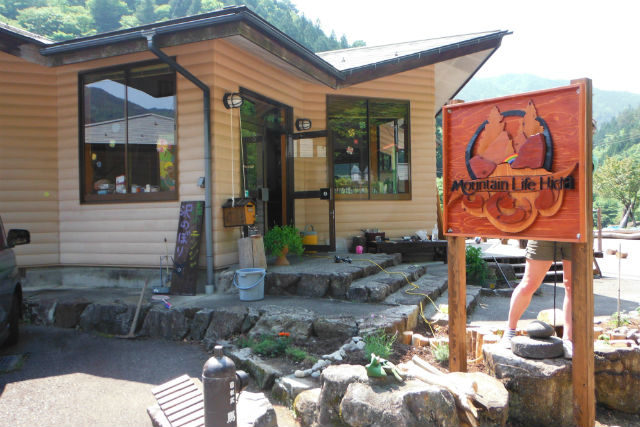 Address: 1450, Nishimura, Maze, Gero-city, Gifu 509-2615, Japan
TEL: +81 50-3579-5871
E-mail: info@mt-life-hida.com
Website: http://www.mt-life-hida.com/en
Canyoneering
Completely submerging yourself in clear stream, you can feel the amazing freshness of water. You must become one with nature.
Period: Jun-Oct

Rate: 6,000 JPY

Minimum participant: 2 persons
Ninja Forest
Ninja Forest is an obstacle course on trees. It's really exciting and feel a luxuriant forest in the south of Hida in the air.
Period: Apr-Nov

Rate: 3,500 JPY

Minimum participant: 2 persons
---